And when the going gets tough, the not-so-tough get whiney. That'd be me!
I've had this thing on my foot for two weeks now. I think. The days are melting into one another.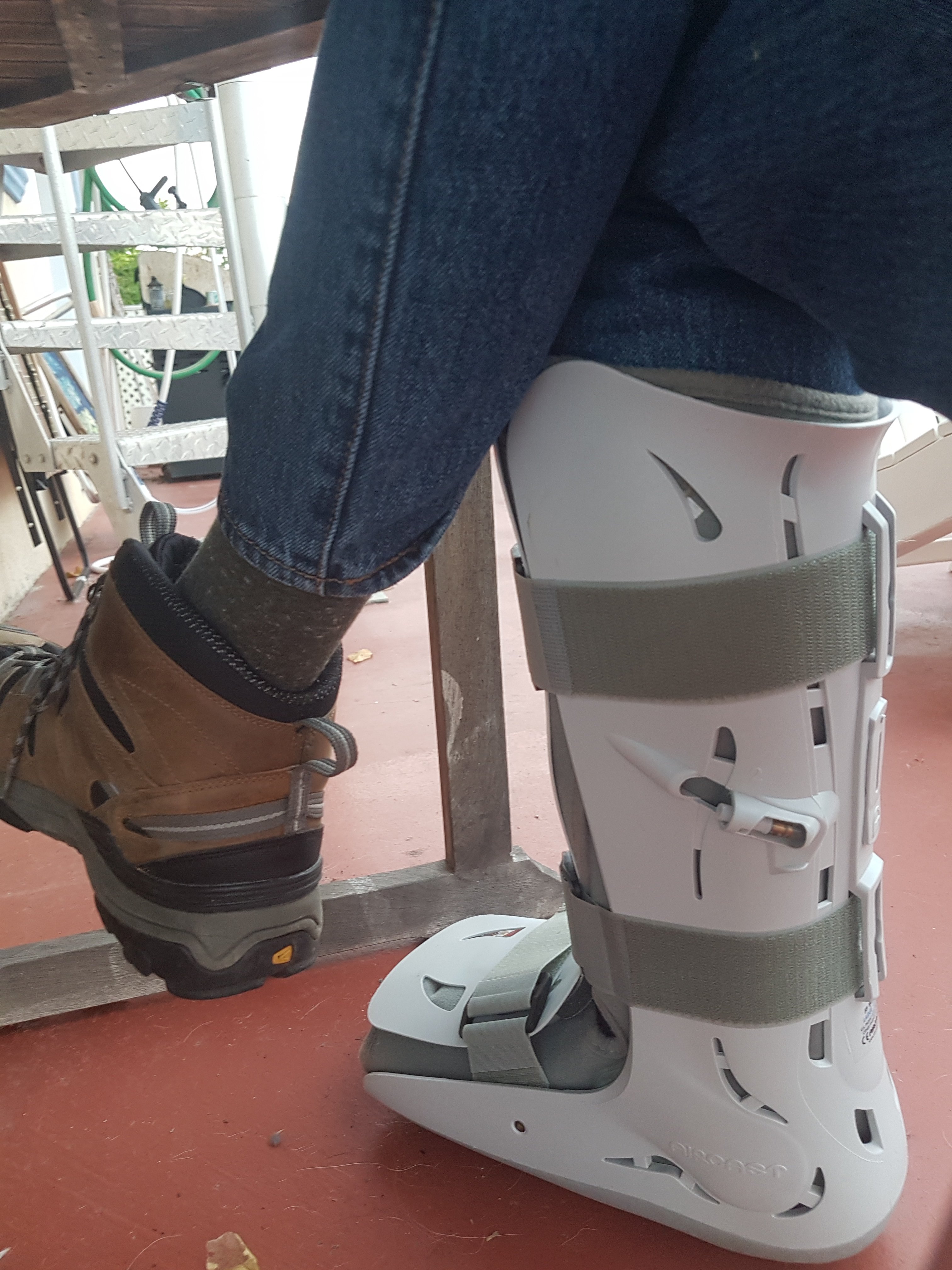 It wasn't bad, missing my beach lunch when it was cloudy, but now, with the promising morning look of blue skies and sunshine, I'll be at work, looking out that big window, going stir crazy.
I could go to the beach, I can take the boot off my leg, but the problem would be heat, and sweat. Then having to return to the workplace. Getting in the water (to cool off) would be very dangerous with the uneven bottom. Swimming would possibly be the worst thing fo my foot, the flexing of all the footbones from swimming wouldn't be condusive to healing. Maybe I'm thinking backwards, maybe swimming would be the best thing. I have a follow-up appointment soon, it's on my calendar, like I said, the days are running together.
The beach is out of the question, for several more weeks. Nobody on this planet is wired so they would miss it more than me either.
Doom!
It was an OK weekend, watched the World Cup. Costa Rica got beat by Serbia. They didn't look too good. Next they have to play Brazil, the favorites to win it all. If Costa Rica loses to Brazil, they'll be out. Costa Rica needs a coach like they had last World Cup. There was a big fiasco after the last World Cup when they let their coach go. Can't remember details, but CR messed it up.
I loved seeing Mexico beat Germany!
Grass needs mowing again, I can't do it. Gonna have to pay somebody.
Today is my Wife's first day at her new job. She's excited, and there's no better person on earth. They're going to love her! I'm sure she'll have her rough patches, but she'll make it through them OK, I'll help her all I can.
I saw a job I think I'd like. Social Media coordinator for this big company. I didn't apply, because the ad said that you needed to be fluent in Spanish and French. Probably an ad for somebody's work permit renewal, but the job looked interesting. I've said before, I never knew what I wanted to do when I grow up, and I'm in electronics because of a Heathkit Stereo. Except Scuba diving, and that lacks the salary.
Well, I got to get going. Have a great day and great week! If you can make it out for a swim at lunchtime, think of me!