Trying to get Lenny to stop barking. 5AM, he's barking at me to hurry up for the walk,
I told him this morning, "No Barking". He barked. I told him "Bad No Barking! You stay! No walk!" And Sheba and I went on our walk and Lenny stayed. He was quite apologetic when we got back
The wife was was upset when we got back, Lenny cried loudly the whole time we were gone. I got upset back, to my way of thinking, it's counterproductive to get upset with me because the dog's doing something I'm trying to teach him not to do.
We'll see if Lenny barks tomorrow.
Lenny is perfect on the leash, but doesn't listen at all without it.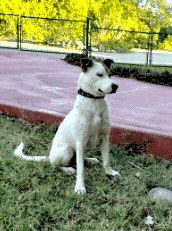 I have more dental today, with the exception of the implant and crowns, I'm getting almost done.
And it's gonna be a nice day!