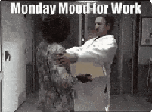 This image depicts my mood this Monday. Especially considering the hard time I had uploading it! I had to shrink it to a nearly unseeable, microscopical size before it was under the Whiney WordPress 2 megabyte limit.
Actually, I found this GIF image earlier and was saving it for a Monday to post it. I think it's hilarious! My favorite part is when he kicks the guy in the wheelchair. And when he headbutts the woman at the beginning. As far as Mondays go, my mood isn't all that bad. I'd rather have a few more days off, of course.
It was a good weekend, I had tacos, I got the other door replaced. I rested and read a lot. Now it's back to work on another prefect Caribbean morning.
I got up earlier than usual this morning, I ran my streetlight pattern, my foot hurt a little, but not at the part that was broken, more like on the ball of the foot. I'm sure it will be fine after I get going again.
Have a great day!