Skins lost…to Dallas. Now the Skins are 0-2. I thought they were going to have a good year.
Saturday, I  re-did the cover for my wife's planter. It came out really good. Also I repaired and painted a big flat bench I made a long time ago. It had a little rot in one leg and support, I cut new wood to fit, replaced it and painted it. I also cut off the chewed ends from when Sheba was a puppy.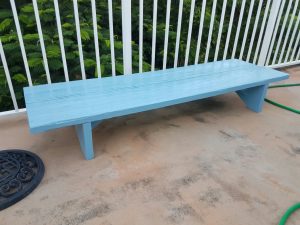 The wife has sprouts coming up in her planters and is happy. Happy Wife, happy life!
The weather is supposed to be nice for the next few days, and overall, things are good!
Have a great week!