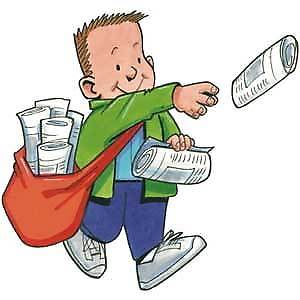 All this cold weather in the news made me go check the weather in the town in Missouri where I grew up, Moberly.
It's cold there now. 2F -17C. But it'll be warmer tomorrow.
I used to deliver papers there or several years. I'm remembering one particular Sunday morning in winter. Sundays were my least favorite day, huge thick paper, inserts, and getting up at 4AM.
I was braced for bitter cold, and I went out in the dark, snow everyhere, packed snow/ice roads. Fairly strong wind, bur surprisingly, the wind was warm. Actually warm.
I knew spring was coming. It turned out to be one of my most pleasant delivering newspaper memories. I was glad to be the only one awake, enjoying the warm breeze. Expecting complete misery and having it be not-so-bad. It was actually nice. Warm wind, I'll never forget it. Normally, the wind is always colder than the temperature of the still air. Not that day.
Tomorrow is February and spring's almost here. When I was living in Virginia, I used to go to Florida in February, get a good sunburn.
This winter, Moberly has had a couple of good snowstorms, and I've found myself wishing I could go sledding, like in the old days.
Of course, I wouldn't trade living here in the tropics for anything. Guys at work tease me when I complain about the cold here!
Today starts my dental visits. There'll be a lot of them. Getting whooped back into shape! I'll be glad when I get it all out of the way.
Have a great day!