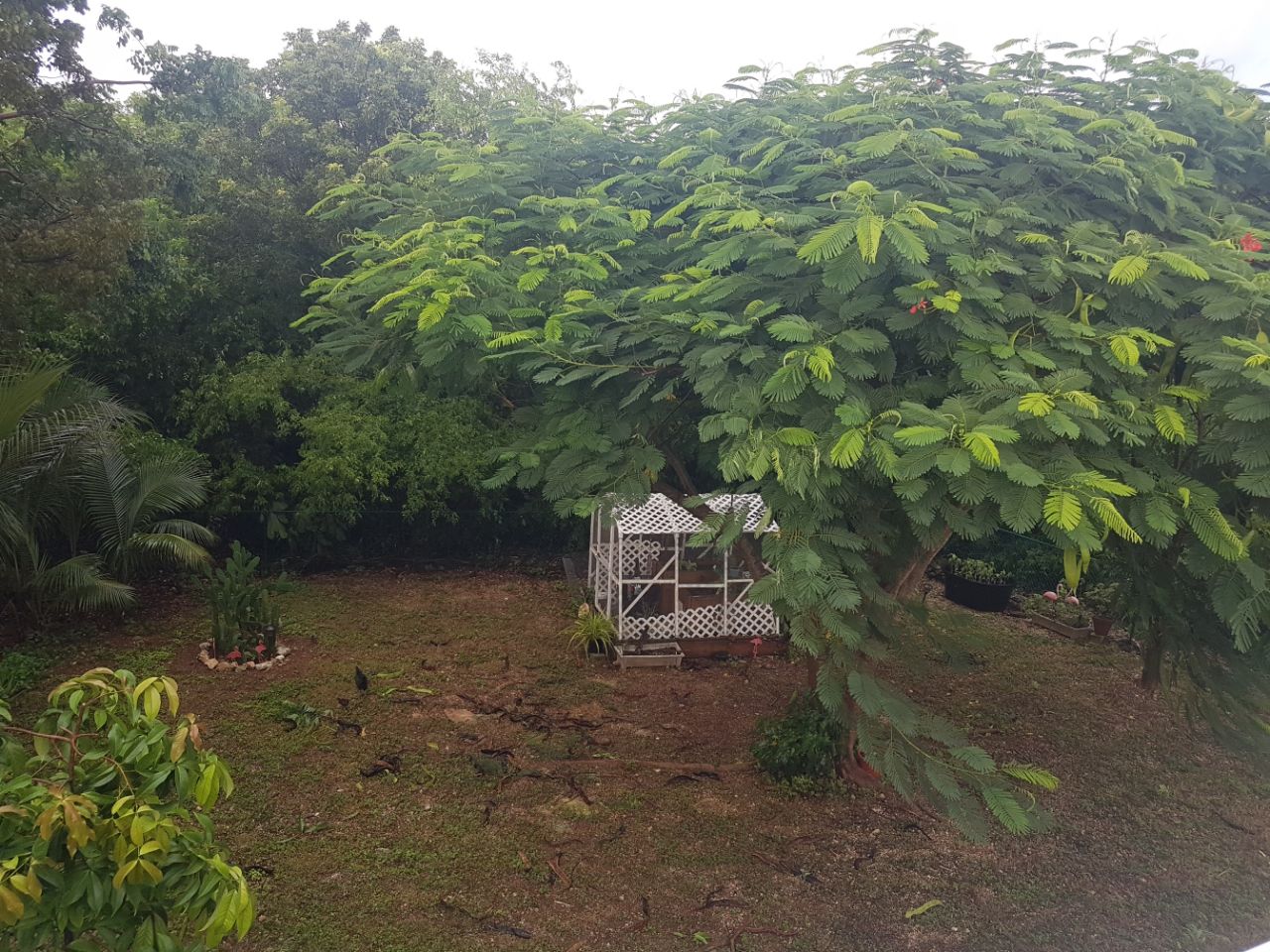 I should have taken a "Before-I-Trimmed-The-Trees" picture, but I didn't. I didn't think the change would be so drastic. Above is an 'after'. Before, you almost couldn't even see the yard. The poincianna (sp?) tree near the middle was twice as big, covering the area to the left, and was practically touching the porch where I'm stnding to take the pic. Out of the frame to the left, there were two (three maybe?) small mango trees that I cut down. They were weird, scrawny trees, that reached out oddly for the light, covering the cactus bed, the round  circle of rocks thing on the left. Another practically covered The Jamaica Apple tree in the lower left corner.
In the picture, you still can't even see our back fence. The trees on the property behind ours reach way over the fence and steal the sun from my wifes' screen house, (that shed looking thing). I'm going to trim those as well. A lot. They're mostly nasty, scrubby trees with thorns. It will be a rough job, almost guaranteed to scratch me and make me bleed. Don't care, I'll get it done. If it ever stops raining. Then the picture above will be the "Before" pic in my upcoming after I trimmed the back trees pic. You'll be able to plainly see the fence after that.  
It's supposed to rain all week, I predict this rain will move away and create another tropical weather system that will head north. Hopefully not a hurricane, but probably a tropical storm. That's my prediction.
The wordpress App has practically totally quit working for me. Images fail to upload. I don't know what happened. Maybe I'll uninstall and reinstall it, see if that does any good.
Have a great day! And stay dry!